Duck & Goose Hunting Articles, Hunting Tips and Waterfowl Recipes
We are very pleased to have the opportunity to share with you some our hunting articles, waterfowl recipes and our hunting tips & tricks. We have had the privilege to have written and published many of our articles on some of the internets finest waterfowl forums, blogs and article websites.
We hope that you find these Missouri hunting observations, goose hunting tips and waterfowl recipes as enjoyable as we have found them pleasurable to compose. If you have a favorite duck and goose recipe or a special waterfowl hunting tip you would wish to share, please feel free to submit it to us for review and possible addition to our pages.

---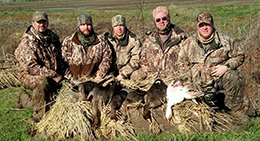 Tired from sitting in your blind wishing you could decoy something a little different?  Sick of see all those pictures and posts of trophy specklebellies and wishing you had some?   You may just want to grab your gear and head to south east Missouri for a late season guided goose hunt.
In recent years while Missouri goose hunting we have seen an upsurge in the migration numbers of White-Fronted geese.    Texas and Louisiana have always gotten significant numbers of specklebelly geese that migrate down and winter.  Their traditional winter habitats include coastal marshes, wet meadows and freshwater marshes as well as rice fields.  Almost like the lesser snow goose the mid -continent white-fronted goose is a grazer  feeding on marsh grasses, grain crops,  tundra vegetation,  plant growth and occasionally aquatic insects, larvae and yes rice!
The Mississippi Alluvial Valley is a historic flood plan of the lower Mississippi river.    This is also one of the most important winter habitat areas for waterfowl in North America. Once these forested wetlands and swamps where almost 40% of all North America drains provides immeasurable worth to waterfowl along the lower Mississippi flyway.  This valley begins in southern Illinois and south east Missouri flowing down the Mississippi river into the Gulf of Mexico.
This wintering habitat is home for many waterfowl species like Pintails and Mallards along with Mid-Content lesser snow geese and specklebelly geese.     Missouri waterfowl hunters in the south east are  seeing a major rise in the wintering population of white-fronted geese.   Over the last decade specklebelly populations have steadily increased.    If nowhere else, this is evident in the south east Missouri rice fields during late December and January while hunters are out chasing waterfowl.
More and more waterfowl hunters are being attracted by the increasing specklebelly geese numbers each passing season.   Local guided goose hunting services are ready and willing to aid hunters looking for that trophy white-fronted goose that so many are looking for.  Professional Missouri goose hunting outfitters and guides have all the equipment you will need to make your journey a worthwhile adventure.
In addition while on your trip, Missouri's duck hunting season runs into January.  When booking the trip ask your Missouri goose hunting guide if duck hunting season is still in. Many local outfitters offer both duck and goose hunting.  Don't just sit there wishing for that specklebelly, come on down to south east Missouri and go on your own guided goose hunting trip for that trophy White-Fronted goose.