Duck & Goose Hunting Articles, Hunting Tips and Waterfowl Recipes
We are very pleased to have the opportunity to share with you some our hunting articles, waterfowl recipes and our hunting tips & tricks. We have had the privilege to have written and published many of our articles on some of the internets finest waterfowl forums, blogs and article websites.
We hope that you find these Missouri hunting observations, goose hunting tips and waterfowl recipes as enjoyable as we have found them pleasurable to compose. If you have a favorite duck and goose recipe or a special waterfowl hunting tip you would wish to share, please feel free to submit it to us for review and possible addition to our pages.

---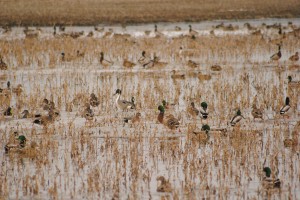 Your buddies have finally talked you into joining them for a Missouri waterfowl hunting trip, but you have no idea what to expect. Maybe you have done some other wild game hunting or perhaps this is your first hunting trip ever. No worries, because we are about to provide you with a quick FAQ for Missouri waterfowl hunting.
Why Missouri?
Missouri is lucky enough to benefit from an area called the "Duck Factory." This is the Prairie Pothole Region where millions of waterfowl migrate every year. There are multiple species of waterfowl that breed here, guaranteeing that Missouri sees an abundance as well as a wide variety of waterfowl during hunting season. The Great Lakes region also provides significant waterfowl for the area.
While some of these grounds were in danger, recent funding has ensured that the breeding grounds will be protected and flourish for years to come. The State of Missouri has been working hand in hand with these organizations to ensure that these areas are and will remain protected. This partnership ensures that a major source of tourism and income for the area, duck hunting, will continue without interruption.
To Hunt on Land or Water?
With varying terrain, Missouri waterfowl hunting provides various settings for an enjoyable hunting trip. While it always pays to be adaptable, you may find that you enjoy one type of hunting over another. The question, then, is to hunt on land or water?
Hunting on land presents some challenges, but skilled hunters are finding ways to beat these challenges and capitalize on areas where few hunters are willing to travel. The biggest challenge for most hunters is cover. Ducks are very smart creatures and are always looking out for threats. The limited cover that is available means hunters have to be more careful and more creative hiding and luring the ducks into the kill zone.
Hunting on land is not something that an unskilled hunter would probably want to try, as your shooting and calling needs to be on point to be successful. In this setting, you may only get once chance, so you have to make the most of it. Land hunting is not as popular in Missouri as it is further north, but there are opportunities for a successful hunt.
Hunting on water generally provides a lot more opportunity for hunters of all skill levels. This may take more equipment, but if you are using a duck hunting guide, most of, if not all of this will be taken care of by the guide. In addition, the guide will have considerable expertise in laying decoys in the area, as they probably lease the land and are very familiar with the waterfowl habits in the area.
Are Duck Hunting Guides Worth It?
Ask hunters that have gone hunting on their own first and then used a Missouri duck hunting guide and you will hear far more arguments for using a guide than you will for not using one. Of course, there is a fee, but you receive plenty of benefits for this fee. Some of the benefits of using a waterfowl hunting guide in Missouri are:
 Local knowledge of the area
Target rich grounds
 Equipment
Local Knowledge – possibly the most important reason to use a guide, especially if you are traveling to Missouri for a hunting trip. You can read online as much as you want, but local knowledge will win out every time. Local guides know the migratory patterns of the birds as well as what areas are providing good hunting during specific times of the year, including various weather conditions that will be seen during the trip.
Target Rich Grounds – many of the local guides will have land leases for their clients. Trust me, if guides are paying for the grounds, there is a reason. In addition, they will also know about non-leased areas that will not be as crowded as some of the more popular spots but will provide significant waterfowl.
Equipment – do you know what decoys work best in the area? Do you know what patterns work best? Are you an expert caller? Do you know how to hunt in local weather conditions? Worrying about things such as this are no longer your problem when using a duck hunting guide in Missouri because you are paying for their knowledge and skill in these areas. The only thing you need to do is stay ready and enjoy the trip.
Missouri waterfowl hunting can be an exhilarating experience, but only if you manage to have a successful hunt. This area is one of the most target rich environments in the sport. Your best chance of having a successful trip is to use a guide that knows the area and that can teach you the nuances of waterfowl hunting in Missouri.