ShowMeSnowGeese.com – Snow Goose Hunts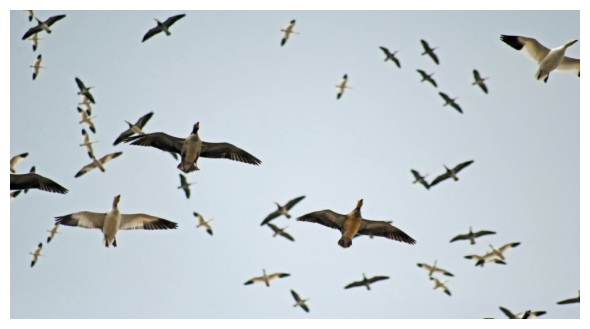 Welcome to the home of snow goose hunting. If you're game for some of the finest spring snow goose hunting in the Midwest, Show Me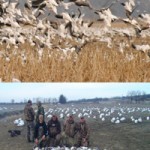 Snow Geese provides highly productive guided snow goose hunts. Our stellar track record as  Missouri snow goose outfitter speaks for itself because we keep at it year after year. Missouri snow goose hunting doesn't get any better than with Show Me Snow Geese's professional hunting guides who create the most favorable conditions to make sure that you have a productive goose hunt.
New for the Spring 2018 conservation order, in South East Missouri we will be offering hunters the chance to chase the feed run snow geese.   This will allow hunters the opportunity to hunt the geese on the field they were feeding in, before going back to the roost.  These hunts will be until noon only as they will be set using a smaller mobile more aggressive decoy spreads using from 800 to 1200  allowing our guides to scout and set feed fields.  We will continue to offer our Southeast-Central and NW Missouri Large semi-permanent spreads consisting of 1800 to 3000 full body and windsock decoys in the major migration areas that we have located and acquired over the many seasons we have been in business allowing hunters to hunt full days. See our Hunt package page for current prices.  Click Here
We've been in business hunting snow geese since 2002, and what started as a small waterfowl business has flourished into a full-fledged annual snow goose hunting company. You can expect to hunt geese that come from as far as the Baffin Islands, Queen Maud Gulf, and Islands in the Northwest Territories and on Hudson Bay. Spending most of their winter in SE Missouri's rice farming region, these geese are located right where we begin our snow goose hunts.
The spring snow goose hunting season starts right at the beginning of February; however, we highly recommend hunters to book their hunt in advance because our spots fill up long before the New Year. So if you wait too long, you may lose your spot in our hunting party. Avoid making this mistake and contact us well before to ensure that you go hunting with us this spring season.
Thousands of snow geese rest south of us during winter, so this makes our area great to hunt spring snow geese once flocks start flying north for the spring migration. Since a large number of snow geese constantly move further north during these months, our ideal location in the boot heel of Missouri gives you a front seat to some of the best fields throughout the area.
As they, being migrating, we follow them to our ideal snow goose staging grounds in Missouri by Squaw Creek NWR located near Mound City. This is where our season ends, anywhere between the middle to end of March. The region has been known to hold as many as 2 million snow geese at one time, so just seeing that many geese can be an overwhelming experience, let along hunting them.
We ensure that the appropriate gear is used. Hunting without proper gear isn't only wasteful; it just isn't as fun. We have all the right decoys that include Dakota X-Treme Snow & Blue goose Decoys, made in the U.S.A Hard Core Full-Body Snow Goose Decoys, New style Avery fully body decoys, Snow Goose Slammer Socks, The Clone real motion flapping  decoys and Flyright machines. The usage of these in our decoy spreads substantially improves hunting productivity.
Since snow geese are very observing and cautious, our guided snow goose hunts will enhance your hunting experience. You're in good hands with our veteran hunting guides because they are highly skilled at snow goose hunting. They don't leave anything to chance and always look over even the smallest details to ensure a successful hunt. From decoy placement to when to call the shot, they will guide you through the whole snow goose hunt so that your trophy doesn't get away. Our 15 years of experience ensures that you get the best hunt you've ever had.
Show Me Snow Geese is Missouri-based , so we know the area like the back of our hand. This allows us to scour the back roads and expand our land holdings to include the most productive hunting grounds we can find. Our customized goose hunts let you stay for as many or as few days as you want.
We only take an average of 5-6 hunters in a party giving each hunter the attention they deserve. While we prefer to keep hunting parties to this size, we can accommodate larger parties upon request. So if you're looking for a spring snow goose hunting trip to remember, contact Show Me Snow Geese and book a hunt today click here for current pricing and hunt packages.