Duck & Goose Hunting Articles, Hunting Tips and Waterfowl Recipes
We are very pleased to have the opportunity to share with you some our hunting articles, waterfowl recipes and our hunting tips & tricks. We have had the privilege to have written and published many of our articles on some of the internets finest waterfowl forums, blogs and article websites.
We hope that you find these Missouri hunting observations, goose hunting tips and waterfowl recipes as enjoyable as we have found them pleasurable to compose. If you have a favorite duck and goose recipe or a special waterfowl hunting tip you would wish to share, please feel free to submit it to us for review and possible addition to our pages.

---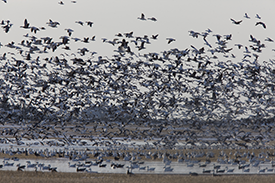 Hunting is a sport of patience, skill, knowledge, and passion. The hunting season is the most awaited time during the year for hunters as it is the time to hone their hunting skills and see their worth in the open field. There is a lot of game to hunt such as deer, rabbit, pheasant and sometimes raccoons. However, one of the most challenging seasons is the spring snow goose hunting season. Despite the difficulty of hunting, the snow geese added by the fact that it is spring, and it is even more difficult to catch the bird during this season; waterfowler hunters are still addicted to the sport. Here are the reasons why.
Poses additional Challenge
Expert hunters get bored with hunting the common game such as pheasants. Snow goose hunts provide an additional challenge as the bird possesses remarkable intelligence. The birds are more difficult to decoy during the spring since the birds that are returning from wintering grounds have been hunted. Decoys and calls have made them weary, and the hunter must sometimes think unconventionally in order to decoy them. A limit of snow goose is a symbol of being a hardcore hunter.
A Sport of Skill and Technique
Aside from the challenge spring snow goose hunting provides, the sport also creates excitement on the application of different techniques and tactics. The most effective techniques can produce large bag limits and the hunters who employ efficient hunting tactics finds success and a greater sense of achievement. A single productive technique or combination can make the difference between a bust and a successful snow goose hunt.   Many of these lessons are handed down from experienced hunters and guides alike.
High-Tech Equipment
With Missouri snow goose hunting, the equipment used for the hunting of the geese is different from the equipment used during the regular season. The equipment usually used includes full body decoys, realistic windsocks, and electronic callers.  Whether it is near cattle ponds, rice fields, or on cut corn fields, this equipment is used heavily during the spring season.
Guides and Outfitters
Guides and outfitters are plenteous during the spring goose hunting season. Finding a good one can take some time. Good guides provide instructions to novice hunters on the basics of goose hunts. Guides will take people to the areas where geese are abundant, teach people about the proper equipment to be used during the hunt. Outfitters also instruct hunters on what to wear on the hunt to aid in camouflaging equipment and help clients avoid injury while on a guided snow goose hunt . Remember that during the hunt, waterfowl hunters stay for long periods of time in a hunting blind or pit.
Other Benefits
During the spring season, the fuel prices tend to be lower making it cheaper to cover a lot of ground. During the spring snow goose hunting season hunting requirements are relaxed in the effort of controlling the population of geese