Duck & Goose Hunting Articles, Hunting Tips and Waterfowl Recipes
We are very pleased to have the opportunity to share with you some our hunting articles, waterfowl recipes and our hunting tips & tricks. We have had the privilege to have written and published many of our articles on some of the internets finest waterfowl forums, blogs and article websites.
We hope that you find these Missouri hunting observations, goose hunting tips and waterfowl recipes as enjoyable as we have found them pleasurable to compose. If you have a favorite duck and goose recipe or a special waterfowl hunting tip you would wish to share, please feel free to submit it to us for review and possible addition to our pages.

---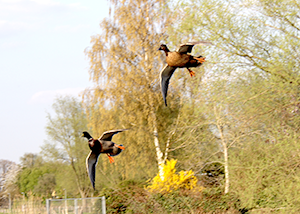 Many people will remember their younger days when they overheard their fathers making hunting arrangements. For many, their hopes of joining their dads were dashed when they were told that the hunt is for grownups only. Other parents made an effort to placate their children by telling them they would take them next time. Few Americans in such a scenario were eventually taken duck hunting, but a big proportion had a different experience. However, taking your children on your next trip to a Missouri duck hunting club  could provide some of the following advantages.
Growth from Hunter to Mentor
Taking your son or daughter along with you on a guided duck hunting trip you will slowly  graduate from just a hunter to a mentor to your kid. As your child's interest in hunting grows, you will find that your priorities will begin to change. Eventually you will find yourself packing juice boxes, game boys and fruit roll ups on top of your thermos and shells. Another thing likely to change is the amount of time you spend in the field, since your kids may not be able to last as long as you can. The last thing you should do is burn them out, such that they will always associate duck hunting with utter boredom.
Introducing Your Kids to the Outdoors
Children have a naturally unfulfilled interest in hunting, wildlife and nature in general. A well-documented survey established that a high percentage of children are interested in wildlife and boys who regularly enjoy watching wildlife are three times more likely to hunt. However, fewer kids participate in outdoor activities, they are adapting to sedentary lifestyles as they engage in spending most of their time indoors leading to various serious health problems.
Involving your child in your hunting activities will help them understand more about nature as well as the importance of protecting the environment. This will directly lead to the development of a well-rounded individual.
Bonding
Guided duck hunting is also a great way for fathers to spend quality and quantity time with children. A significant amount cited one of the reasons they would prefer to go hunting is to have fun and spend time with family and friends. Duck hunting offers you the chance to observe your child in different environments as well as create a team that works together to achieve a goal. In homes where the father spends 30 or so days per year hunting, 61% of boys and 26% of daughters, eventually joined in the sport.
Creating Tradition
Passing on your hunting skills to your children will also help to establish a tradition that they will honor with their children after them. This includes small things like stopping by a deli for donuts after heading out for a duck-hunting trip. This tradition will eventually see the increase in the number of hunters out there in future with younger members enrolling in duck hunting clubs.
Though while watching your son or daughter shoot can find you shooting less, nothing beats the excitement they get whey their first see the flock of ducks in the distance. Together you can marvel at the wonders of nature as the sun rises in the horizon, something that your child will never get in the classroom, mall or on TV. For more information on how you can get in the action with your kid make sure to check out the Golden Triangle Duck Club for more information.