Duck & Goose Hunting Articles, Hunting Tips and Waterfowl Recipes
We are very pleased to have the opportunity to share with you some our hunting articles, waterfowl recipes and our hunting tips & tricks. We have had the privilege to have written and published many of our articles on some of the internets finest waterfowl forums, blogs and article websites.
We hope that you find these Missouri hunting observations, goose hunting tips and waterfowl recipes as enjoyable as we have found them pleasurable to compose. If you have a favorite duck and goose recipe or a special waterfowl hunting tip you would wish to share, please feel free to submit it to us for review and possible addition to our pages.

---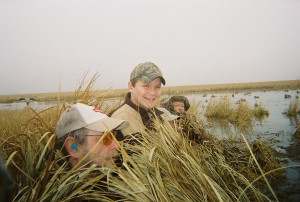 Every year, we see more and more hunters flocking to Missouri to go waterfowl hunting. So, what is the big draw in Missouri? Why are so many hunters arriving in the fall and hunting right through the spring? The fact is Missouri is flat out one of the best locations for hunting, especially if you are interested in snow geese. Hundreds of thousands of birds fly through the beltway and every one of them will be in your sights if you play your cards right!
Snow Goose Hunting in Missouri
The elusive snow goose…well, it may be elusive for others, but there are plenty of them to go around in Missouri! The spring season starts in February and continues through the end of March. It is not uncommon to see a couple of million birds pass through this area during the course of the season. Yes, that is million with an M!
Guided White Fronted Goose and Duck Hunting
Southeast Missouri is flooded with waterfowl during the hunting season. This is home to the Missouri rice belt.  There are two main rivers that funnel the waterfowl through this area the St. Francis and the Mississippi river and Show Me Snow Geese actually has many fields in this very area! The fields planted in rice and soybeans to ensure the birds come back every season.
Consistent Hunting Seasons
Not everyone can get out when the season starts, but that makes no difference when you are waterfowl hunting in Missouri. Fortunately, our grounds are packed with birds throughout the entire season and then straight through the spring with snow geese. In fact, you might find it better and more comfortable to go late in the season after everyone else has had their fix.
It's Cheaper
I don't mind spending money, but I sure as hell don't want to waste it. Missouri offers cheaper everything, so you can spend all that extra cash on shotgun shells and gear! Our permits are among the cheapest in the country and lodging and fuel costs are very reasonable. And, when you come home with a bag full of birds, you will save some cash at the grocery store too!
Using a Guided Duck Hunting Outfitter
When you come to Missouri for the first time, you want to make sure you have a good time, and that means shooting a lot of waterfowl. In order to do this, you want access to the best lands in the area. Show Me Snow Geese offers a variety of guided hunts available as well as some of the most skilled hunters serving as guides. You are not only going to have a great chance to bag your limit, but you will also learn some incredible tips to make future hunting trips more successful.
Plenty To Do After the Hunting is Done
If you get tired of hanging out in the hotel, you are going to have plenty of great restaurants to eat at and lots of great nightlife spots like Casinos' available. If you're looking for a top of the line steak house in northern Missouri, head to the A & G. If you're down south looking for the Mississippi Delta's finest bar-b-que try Strawberry's Barbeque, they will have your mouth watering just as much as that Christmas goose. After you bag your limit before noon on a Sunday, you can head over to Lambert's Cafe home of the throwed roll! Just do everyone a favor, grab a quick shower and change out of those muddy clothes first!